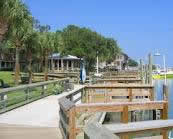 Murrells Inlet, South Carolina, is located just south of Surfside Beach and is part of the Grand Strand. With miles of pristine South Carolina beaches up and down the coast, a temperate climate, close to 1,800 restaurants and many attractions nearby and the Murrells Inlet vacation rentals we have available for you to stay in, the area is a popular place to enjoy a quiet and serene vacation.
This part of South Carolina has more than 200 sunny days and a temperate year-round climate. Murrells Inlet is a confirmed paradise for those who love fishing, offering endless hours of inlet and deep sea fishing. Sports enthusiasts will fall in love with the 110+ championship golf courses surrounding our Murrells Inlet vacation rentals. Some of the best golf courses the area has to offer can be found right here in Murrells Inlet.
After a long hard day on the water, delight in an almost unlimited amount of dining choices. The Grand Strand conveniently boasts more than 1,800 restaurants serving up all sorts of delectable cuisine, including some of the world's finest seafood. And Murrells Inlet is known as the "Seafood Capital of South Carolina." Or if you prefer, you can dine in at your Murrells Inlet vacation rentals as they come with fully equipped kitchens.