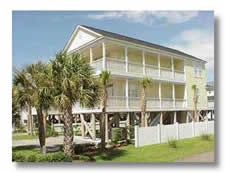 Looking for somewhere new to vacation this year? How about coming to the coastal Carolina's! Vacation homes are quickly becoming a trend for accommodation, especially in South Carolina. Vacation homes near Myrtle Beach are the choice of large families for a comfortable accommodation when visiting the area. Our South Carolina vacation homes will provide more comfort, space, and privacy than a hotel is known to offer.
There are plenty of advantages when choosing South Carolina vacation homes over the typical hotel accommodation. Even the smallest vacation home will have multiple bedrooms, private bath, kitchen, dining and living room area. Sometimes you even get your own private swimming pool, hot tub and Jacuzzi. Dining out can get pretty expensive so having a kitchen saves you a whole lot of money. Let's face it, who wants to live in a bedroom for a whole week with other people!
Call us today and we'll show you what we have for available vacation homes in the area.