Now that December is here it won?t be long before the holidays are upon us. Everywhere we turn there is Christmas music playing, more and more beautifully decorated homes, and the spirit of the holiday fills the air. If you?re contemplating staying in a vacation rental home in South Carolina for the holidays we have house rentals in Surfside Beach that would be just perfect for you.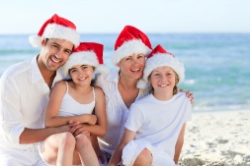 Some families return every year to spend their holidays in our Surfside beach houses. It?s become tradition for many beach-loving families. You?ll be able to decorate your beach rental for the holidays just as if you were at home because while you?re here, that?s just how we want you to feel! We provide all the furnishings and beachy decorations to make your home comfortable for your home away from home. You dress it up any way you?d like for the season.On our web site you?ll be able to choose a vacation home from our large number of rentals that will fit your style and budget and be the right size to hold your family. Take your time deciding because you?re starting a new family tradition here ? one that you?ll look forward to for many years to come.
Just picture yourself and your family taking endless walks along the beach this holiday season. (You might even see the occasional Christmas tree!) When it comes to decorating your own tree why not use seashells you?ve found along the beach. If you?d like you can buy others inexpensively at the local seashell specialty stores.This time of year you can shop the pre- and post-holiday sales at Coastal Grand Mall, Tanger Outlet Mall, and at Barefoot Landing where you?ll find shops so unique you?ll just have to go inside to get a closer look. Don?t miss out on the many dining opportunities the area offers. With over 2,000 restaurants ranging from casual to fine dining, you?re sure to find exactly what you?re hungry for.If you?re looking for local events to enjoy don?t miss the Surfside Beach Christmas Tree Lighting held on Thursday, December 5 at 7 p.m. at the Town Hall in Surfside Beach.Night of a Thousand Candles is Brookgreen Garden's most popular annual event and has become a holiday tradition! Thousands of lights sparkle from Live Oak trees and illuminate garden paths as musicians perform, carolers sing and visitors experience the enchantment that only this event can bring. Come take part in enjoying this spectacular event on December 5-7, 12-14, and 19-21, 2013 from 3-10 p.m. Call Brookgreen Gardens at 843-235-6000 or 800-849-1931 if you would like more information.If you?d like to speak with someone at Seaside Rentals about the available Surfside Beach vacation rentals we have over the holiday, please give us a call at 1-866-252-9930.