Coastal South Carolina is a favorite vacation spot for tourists seeking pristine beaches, Las Vegas quality shows and top-notch outlet shopping. From these Garden City Beach rentals you'll still be close to all the action on the Grand Strand but you'll be on a beach that's less crowded and more laidback – a family beach.
So you've arrived and you looked at an assortment of Garden City Beach rentals and finally found the one ideally suited to you and your family. But how do you keep the little ones entertained after a fun-filled day in the ocean? Here are some suggestions that are sure to please even the most discriminating child:
~ The Children's Museum, located in Downtown Myrtle Beach, and across the street from the convention center, has interactive exhibits that will delight children.
~ There are over 60 miniature golf parks to choose from around Myrtle Beach. Most have a nautical or pirate theme.
~ Visit the piers in Myrtle Beach and Garden City early in the morning or at dusk. Don't be surprised when you see sharks cruising for what the pier fishermen release back in the water.
~ Go seashell collecting. Take a plastic bucket down to the shore early in the morning and see what nautical treasures washed up over night.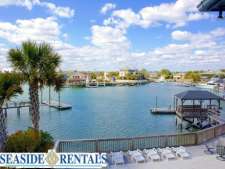 ~ Take the whole family to see one of the many shows in town. From jousting knights and virtuous maidens to French style circus acts, you will find an afternoon or early evening performance that will surely please everyone. Children under the age of 12 generally pay half price at most of the shows.
~ Fly kites on the beach! There are literally dozens of shops around town where you can buy a sturdy, colorful kite that will soar high in the sky.
~ Rent a pontoon boat and cruise down the Intracoastal Waterway. You can take a packed lunch and refreshments and make a whole day of it, or simply rent your boat by the hour.
You're never far from tons of activities and amusements when you stay in one of our Garden City Beach rentals.