So you're here enjoying that end of summer vacation? There's still plenty to do here and all are accessible from any of our Surfside Beach South Carolina vacation rentals.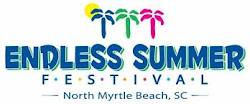 Bring your family and friends to the Endless Summer Festival that begins on Saturday, October 29th and lasts from 10 a.m. – 4 p.m. on Main Street in North Myrtle Beach. Enjoy fabulous entertainment, lots of vendors with one of a kind specialty craft items, food vendors, classic & antique car show and children's area with inflatable's, community stage and carnival rides. Best of all, this is a free concert!
Entertainment starts at 11:00 a.m. with Sea Cruz at the famous "horseshoe" at the end of Main Street with the beautiful Atlantic Ocean as the backdrop. Music includes the best of 60's oldies, Classic Rock, 70's Disco, Carolina Beach and today's hottest hits.
Following Sea Cruz, the Extraordinaires will take the stage from 2:00 p.m. to 4:00 p.m. Formed in 2003, the group loves Classics and Rhythm and Blues. Their selections include favorites such as "Under The Boardwalk," "Shaggin' On The Boulevard and "Shout."
The endless summer theme is "Celebrating Beach Music That Makes Memories." So, bring a beach chair, relax, listen to some great music and make some new memories of your own. There may even be some dancing in the street!
If you like sports don't miss the Endless Summer Volleyball Invitational that can be watched behind the horseshoe on October 30 and 31.
Come see why Surfside Beach South Carolina vacation rentals are preferred by most tourists visiting the area.