Don't let the cold winter weather slow you down; get a jump start on the vacation season next month. There is no better time than now to map out your spring and summer vacations! February is a great time of year to visit Surfside Beach. The weather starts to warm up, and the calendar of events fills up, too! There is something to do every weekend at the beach, so we've compiled some of the most anticipated events. Mark your calendars, and plan your trip today!
Annual Conway Chocolate Walk – Saturday, Feb. 1
Come browse the shops and restaurants of downtown Conway and enjoy confections provided by local chocolatiers. More than 35 local business are participating this year, and the crowd gets larger every year! Tickets are sold in advance here, and only 200 are available. What a great way to kick off the sweetest month of the year!
Sixth Annual "Shuckin' on the Strand" Oyster Roast – Saturday, Feb. 8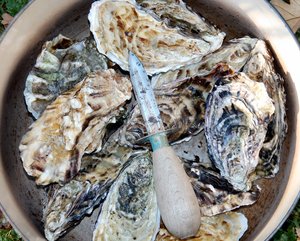 Enjoy a coastal Carolina delicacy at the Hot Fish Club on Hwy 17. This a family friendly, afternoon event that will be full of entertainment! The event sells out quickly, so be sure to get tickets ahead of time. 500 attendees will enjoy all you can eat oysters, chicken bog, draft beer, and live music. If this is your first trip to the area, know that a South Carolina style oyster roast is not to be missed!
Winter Beach Bash Car Show – Saturday, Feb. 15
Come out to the Myrtle Beach Speedway and marvel at vintage muscle cars, racing wagons, and luxury collector automobiles. With food and entertainment, this is an event the whole family will enjoy.
Winter Parrot Head Festival – Saturday, Feb. 22
This event is hosted by Le Belle Amie Vineyard, a local wine making facility near the Myrtle Beach Grand Strand. The Parrot Head Festival is a celebration of the arrival of spring. Come out to vineyard to mingle and enjoy tastings, tours, and their spiced mulled wine, which will be featured at the festival.
Don't let the winter blues keep you indoors until April. We're always having a good time at the beach!