Check out these adorable Reunion Villas 4 located in Garden City Beach, South Carolina, just south of Myrtle Beach. These each have 4 bedrooms and 3 baths and can accommodate up to 12 people. Located on North Waccamaw Drive they are perfect for an extended family traveling together or even that long overdue family reunion. One thing is for sure — you won't find any cuter Garden City Beach vacation homes in the area!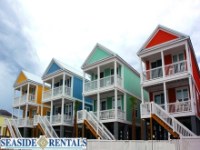 These Garden City Beach vacation homes are brand new and were built in July 2012. Professionally decorated homes offer granite countertops, stainless steel appliances, 5 TVs, 5 DVD players, washer/dryer, heat and a/c, business class high speed wireless internet, and ceiling https://buyzolpideminsomnia.com fans throughout the 1,900 square feet.
It's a second row community with a shared pool that opens this Fall. There's a beautiful unobstructed ocean view from the covered porches on the 1st and 2nd levels that you're sure to enjoy.
Book now and you can get the following specials on a vacation home in this community:
8/18-8/25/12 Arrival Was $1,930 – Now Reduced to: $1,690 ?
8/25-9/8/12 Arrival Was $1,440 – Now Reduced to: $1,190
9/8-12/31/12 Arrival Was $1,240 – Now Reduced to: $990
These special rates apply to new full week reservations only.
Get in touch with us at Seaside Rentals where we have many affordable premier vacation rentals we can show you.