It's the time of year when everyone is thinking about family reunions and the upcoming holidays. There is no better place to come for a family centered event than family friendly Myrtle Beach, South Carolina. Part of this Grand Strand area that encompasses 60 miles of beachfront are many quieter towns, with less traffic and less people. While Myrtle Beach is proud of being the center of activity, everyone doesn't want to be in the mainstream with all the noise, lights and traffic. For those we recommend the communities of Surfside, Garden City Beach, Murrells Inlet, Litchfield Beach and Pawley's Island.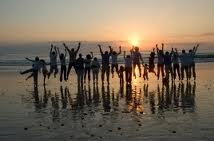 A Garden City Beach SC vacation is a beautiful laid-back spot for your family to gather whether it's 2 of you or 200 coming for that reunion. We have vacation rentals of every size and price range where you're sure to find the perfect place for this year's Garden City Beach SC vacation.
This is an ideal family vacation spot offering not just sun, sand, sea and golf but live entertainment and plenty of terrific shopping options. Enjoy the over 1,800 restaurants in the Grand Strand for whatever it is you're hungry for.
The southern area of the Grand Strand offers vacations on the quieter side. Gaze at the sea once plied by the infamous Blackbeard. Murrells Inlet is known for seafood. Sample fresh clams and crabs prepared down-home-style. Or go out fishing, boating, crabbing or kayaking. Whatever you decide to do, we know you'll have a fabulous time here!