If you haven?t visited our website lately you?re in for a real surprise. We?ve updated our design and improved our website layout to make everything more easily accessible to you. We know your time is valuable and you don?t want to spend a lot of time searching through pages that aren?t relative to what you?re looking for. That?s why we put the most used information right up front.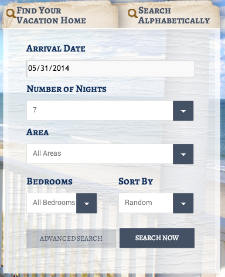 ?From the moment you land on our homepage you can immediately search availability on whatever type of rental you?re seeking, wherever you want it to be. It?s just that easy. If you?re only interested in our Specials on vacation rentals we have a link for that there, too.Everyone needs rental gear at one point or another during their vacation so come to our homepage at SeasideRentalsOnline.com and click on the Rental Gear link halfway down the page. The quick link to Dog Friendly Rentals in Myrtle Beach is new, too!Between the time you make your reservations and when you actually arrive we know how much daydreaming you?ll be doing. It?s hard to get thoughts of vacation fun out of your https://xanaxtreatanxiety.com head once you make up your mind that you?re going. That?s why we?re tempting you further with a link on our homepage to our very own Web Cam. Just one look and you?ll be hooked ? you?ll breath slower, your blood pressure will come down, and quite possibly, a smile will come across your face. Yeah, it?s just that peaceful here.
Our new site will also speed up the time you spend browsing what we have available (see "Vacation Rentals" tab). You can search vacation rentals in any specific area you desire ? Garden City Beach, Surfside Beach and Myrtle Beach. Plus there?s helpful information (see "The Area" tab) on how to choose which destination is right for you and your family. Be sure to check out our extensive "Myrtle Beach SC Area Guide & Concierge" list that?s full of information about the area, places to go, and things to do while you?re here.At Seaside Rentals we are available at any time to speak with you. Please feel free to call us at 866-252-9930 if we can assist you in any way.