If you?re looking for an antidote to the winter blues we have it right here in coastal South Carolina! Many people find it necessary to escape the cold and snow each year during those long winter months if only for a week. Often times it?s just what they need to recharge them enough to get through the rest of the season. For others, they come for one to three months and return after the snow melts.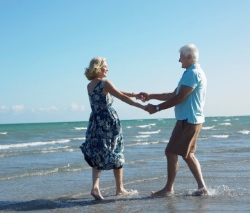 What we can tell you is that we have many comfortable Grand Strand vacation home rentals that will begin lifting your spirits from the moment you walk through the front door. There are plenty of oceanfront rentals that will provide you with the opportunity to catch a sunrise from your deck every morning while having breakfast and it only gets better from there.We know it?s difficult for many people living in the northern states to endure those long winter months and it seems like the older you are, the harder it becomes. In many states it?s rare that people ever see the sun during this time of year and many times when it is out it?s too cold to even go outdoors to enjoy it. In coastal South Carolina the sun seems to almost always be shining and the temperatures are a long ways from cold. We?d like to invite you to come treat yourself to a stay in any one of our Grand Strand vacation home rentals.It?s a known fact that moods are significantly lifted when you get adequate sun. Some people use ?Sun Boxes? and while it helps it doesn?t come with a beautiful sandy beach to walk or all the championship golf courses and shopping malls we have here in the Grand Strand region.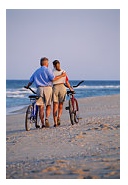 Don?t settle for imitation sunshine when South Carolina is so close. The weather is so temperate that you can walk the beaches, go bicycling, and hit the golf courses any time of the year. Those are the very things that will lift your spirits and put you in a good mood. Maybe that explains why so many people relocate to this area after retiring and are always happy they did so.Medically, it?s true that sunshine is essential for our physical and emotional well-being. Sunshine encourages our body to release serotonin, a chemical derived from the amino acids in our body?s tissues, and that significantly improves our mood. It?s also our body?s main source of Vitamin D, which is essential for strong teeth and bones and the older you get the more important this is.When the sun is out and the temperatures are warmer, you?re more likely to want to go outside and do things. In this area there are many things to do outdoors, too, things like playing golf, walking the beach, shopping, visiting museums and local parks, gardens, and many historic landmarks. All these things can contribute to an increased feeling of well-being.If you?d like to experience an increase in your mood irst hand, why not come and visit us in coastal South Carolina. We promise you won?t run out of things to do while you?re here and you?re going to feel a whole lot better. Take a look at the vacation home rentals we have on our website and if you have any questions just give us a call at 1-866-252-9930. We?d be happy to hear from you.