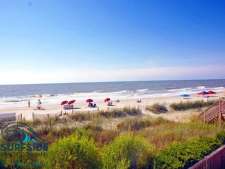 As one of the most laid back and relaxing beaches on the eastern coast and situated just a short distance from the City of Myrtle Beach, South Carolina, Surfside Beach is the perfect place for a getaway weekend or a weeklong trip with the family. If you have never ventured to the South Carolina coast, Rentals in Surfside Beach SC are the best way to experience all it has to offer. With its breathtaking golf courses, numerous water activities, amusement parks, live theatre and restaurants just waiting for you to arrive, you'll surely have the best vacation of your life. Make your way to South Carolina for your next coastal vacation and learn what it means to escape to a beach destination.
Since Surfside Beach is convenient to the great expanse of the Atlantic Ocean, staying in a beach rental near the water is the best way to view the amazing sunrises and be close to the golden sand beaches. When you stay in a beachfront home, you can enjoy an unobstructed view of the ocean at all hours of the day and listen to the sounds of the waves crashing in from the convenience of your private deck. Rentals in Surfside Beach SC give you the opportunity to awaken in the morning, glance out the window and experience the beauty of where you are all over again .
While hitting the links one of our over 100 championship courses or touring the lagoons in a chartered boat in search of flora and fauna is an excellent way to spend your day, there are some aspects of a vacation you cannot plan for so it is always good to have a back-up. When rain pours down on at the beach, you are will need a way to keep the kids entertained, and this is where our Rentals in Surfside Beach SC really shine. With plenty of space, multiple TVs and DVD players, stocked booked shelves, wireless internet, and game rooms, no one in your family can complain about being bored when the elements take over and make it impossible to enjoy this outdoor wonderland.