The first time you travel with a young child will be a great adventure for everyone. It not only takes courage to travel with young children but for the most successful venture, it also takes planning. The people that take the time to plan out each day and everything they?ll need for each day, are the people that have the most success and the least stress.
With a young child, you?ll be playing
in
the sand rather than tanning on it and you?ll be feeding the seagulls rather than listening to tunes from your headphones. Chances are you?ll be kneeling and squatting often so why not consider it exercise. The best part of all though is that you?ll have the opportunity to discover the small wonders of the world as seen through a child?s eyes ? bubbles at the water?s edge, the smallest seashells seashells, shiny rocks, baby crabs, crunchy dried seaweed and plenty more. These are both the gifts and the delights that come with spending time in a child?s presence.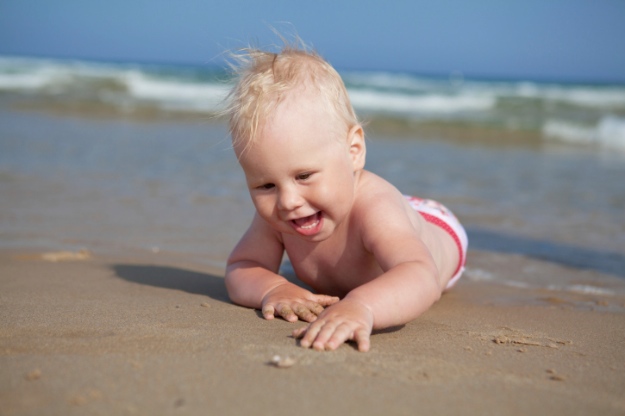 When you have children every trip turns into a great adventure. You might make your itinerary before you leave home but try to stay flexible and take your lead from your child. From the moment you set foot into one of our
Seaside Rentals
until the moment you leave to head home, everything holds the possibility of fun in a child?s mind. Remember that adventure is not so much a destination as it is a journey so be sure to have fun along the way.Be sure you make your reservations for your chosen vacation rental well in advance of leaving home. This is especially important when traveling with children. Be sure to ask about any baby equipment you may need during your stay. Things like cribs, play yards, toys and high chairs are available in some of our rentals.The
Melissa & Doug Blog The Playtime Press
 has a great article entitled
"3 Steps to Ensure You Don't Need a Vacation FROM Vacation."
It's chock full of advice on how to engage your kids in the process of planning a vacation which helps to take the stress off everyone.Keep an open mind as you set out on your vacation and keep the expectation of fun in your heart. Keep your child on the same schedule they have at home with regards to naps and meal time and you should experience a super fun-filled vacation with your young child.