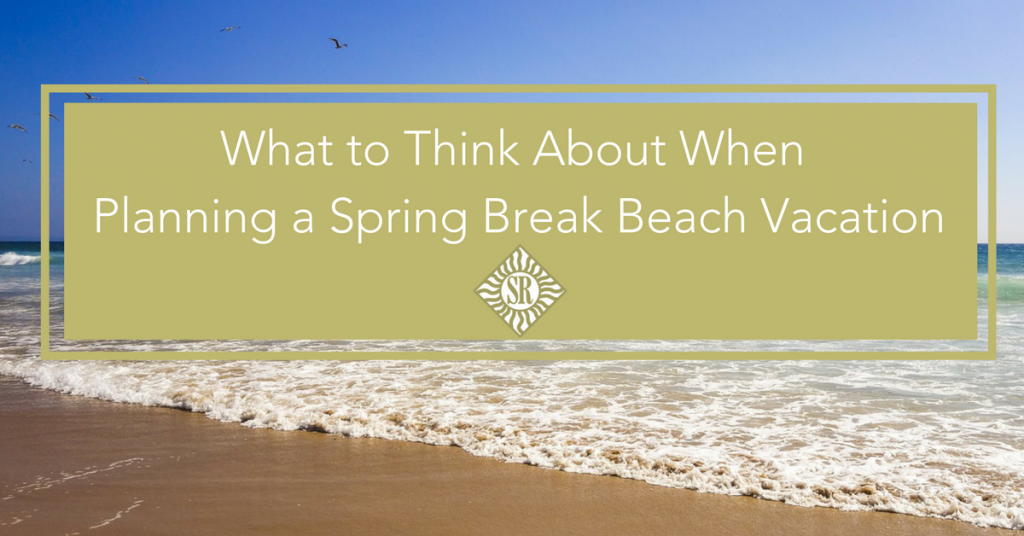 Spring is just a few weeks away and soon tourists will flock to the beach to soak up the sun and relax by the ocean. So, if you?re ready to escape winter and wanting to spend your spring break in Myrtle Beach, it?s time to start planning! Here?s what to think about when planning a Spring Break beach vacation.
Who?s going?
You?ll want a set number of who will be joining you on the trip because this is essential to deciding where to stay. If you?re joined by just a few friends, a hotel room might suffice. However, if you?re going with a larger group a
beach renta
l is the best option. Additionally, with a large group you?ll want to check to see if everyone is comfortable sharing a room or if some in your group would prefer their own room.
Pro tip: use our advanced search option to view rentals around Myrtle Beach, SC with the exact number of bedrooms you need.
Are you bringing your pets?
If you have pets, you may be considering bringing them with you. This could be fun, but it could also end up making you have to alter your plans. For example, your dog won?t be able to stay alone for long which means you?ll either have to enjoy only the activities that your dog can enjoy too or you?ll have to plan your day around going back to your rental to walk and play with your dog.
Pro tip: if you decide to take your dog with you, use our
search by amenities
option to view pet-friendly rentals near Myrtle Beach.
Will you be driving or flying?
If you?re flying, you may prefer to save on the cost of a rental car by staying in a central location that will allow you to walk to nearby activities, restaurants and shops. If you?re driving, this can offer you more options as far as location and ultimately, by not being in the town?s central hotspot, you can save a small amount of money on your rental or hotel.
Do you want to save money by staying somewhere off the beach or are you comfortable with splurging in order to be oceanfront?
You can truly save a good amount of money by staying in a rental that?s just off of the beach, so if you?re trying to plan a Myrtle Beach spring break vacation on a budget this is your best option. If you?re not concerned with your budget and are more concerned with spending spring break with the ocean just outside your backdoor, spend a little extra for an oceanfront rental.
Pro tip: you can use our
advanced search option
to find rentals that are located oceanfront as well as those that are a few rows away, but still just a walk to the beach.
These are just a few of the of the top things to consider when planning a spring break vacation, but the number one priority is simply planning early! Waiting until the last minute will leave you stressed and paying far more for far less.
If you?re struggling to decide which beach rental home is right for you or if you?re trying to decide if a beach rental is even best for you, give us a call at:843.839.0099