We have such a great special on one of our vacation homes in Surfside Beach SC that it?s going to make you break out in song! We don?t actually know if this house, Blue Bayou, was named after Linda Ronstadt?s 1977 song but there?s always the possibility that it was. Just as the song says, ?Looking forward to happier times at Blue Bayou.? ? you can count on happier times when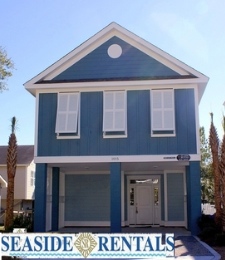 you stay here from the moment you make your reservations. You'll save 15% off a week?s stay when you arrive March 31, April 13 or 26, or May 3, 10 or 17, 2014 and we think that's something to sing about!The lovely beach vacation home called Blue Bayou is located at 1015 South Dogwood Drive in Surfside Beach and is just a short walk to the beach. It comes with its own private 17' x 13' & 3' to 4' Deep pool,, exterior shower, covered porch and exterior grilling area. Interior amenities include Internet access, 5 flat screen TVs including a 46? TV in the living room, hardwood floors, washer/dryer and a whole lot more. You?ll have the option to have the swimming pool heated for an additional charge if you?d like. We offer a Floor Plan Tour of Blue Bayou on our website for you to fully experience the layout.If you enjoy running or taking part in fundraisers lace up your sneakers on March 29 at 8 a.m. to take part in the 2014 9th Annual Race for the Inlet. You?ll get some early Saturday morning exercise as you run or walk through the marshfront, oak-shaded streets of Murrells Inlet.
This annual event features a 5K Walk and Run with optional chip timing, an 8K chip-timed Run and an 8K chip-timed walk. Participants run or walk through Murrells Inlet on USATF certified courses. Race timing will be provided by Race Management Systems. This is a fun event suitable for all ages and skill levels so why not come out and join us. All events start and end at Morse Park Landing on Highway 17 Business (next to the Hot Fish Club) in Murrells Inlet. There will be prizes awarded based on chip timings to the overall top male and female 5K and 8K winners and the top male and female 5K and 8K winners in each of the age groups. Active.com registration is open.