Spring is an awesome time to visit the Grand Strand region of South Carolina because we frequently have temperatures in the 70s! That?s a real breath of fresh air to those coming from the northern states where they?re still shoveling out from under a recent snowstorm. It will be a long while before they get to enjoy temperatures this nice so there?s still time to slip away and enjoy some major savings on our spring vacation rentals.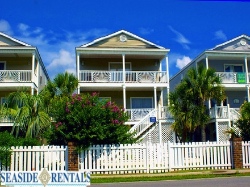 There are 3 ways to take advantage of Beach Ball savings on your spring vacation where you can save a whooping 15% on a new full week stay --1. Come stay a week anytime in March 2014.2. Arrive on April 5, 19 or 26 and stay for a week.3. Or come on May 3 or 10 and enjoy a week long stay before the summer crowd arrives.All three of these options will provide you with 15% off the usual weekly rates for Beach Ball located at 113A South Ocean Boulevard, Surfside Beach. You?ll be situated ocean side of the boulevard/second home. The amenities that come with this home are exceptional. You?ll have your own private pool to enjoy and can even have the option of having it heated for the week you?ll be staying there. Other amenities include two porches providing sunrise and ocean views, Internet access, 6 flat screen TVs with a 47? HDTV in the family room and a 32? HDTV in the master bedroom, DVDE player, washer dryer, and fully equipped kitchen. This 5 bedroom, 3 bath home will comfortably accommodate up to 14 people.If you?re in the area this weekend be sure to take advantage of the local events being held for St. Patrick?s Day in the Grand Strand area. There will be a St. Patrick's Day Dance  on Saturday, March 15 from 7:00 p.m. to 10:00 p.m. at the Civic Center in Surfside Beach.
The 5th Annual Irish Festival will be held from 11 a.m. until 7 p.m. on Saturday, March 15 at The Market Common in Myrtle Beach.One of the most popular St. Patrick?s Day events in South Carolina is the North Myrtle Beach 26th Annual St. Patrick's Day Parade and Festival from 9 a.m. to 4 p.m. on Saturday, March 15. Every year this Main Street parade features more than 100 entries and is the largest in the area. Many vendors will line Main Street to sell their unique crafts and artwork. Fill up on traditional Irish Fare and brew from Flynn's Irish Tavern and a few others in the area. Two stages will have performances throughout the day. Admission to the event is free and open to the public.