Come enjoy your Myrtle Beach vacation in an even bigger way this year when you take advantage of our special deals on vacation rentals. We'll share five of our best specials on our family vacation rentals in Myrtle Beach right here, right now, but hurry because they won't last forever! Whether you're looking for beachfront condos or you want your own single family vacation home where you'll have amenities such as a swimming pool to yourself, you won't be disappointed by what we have to offer you here at Surfside Realty. Check out these great deals!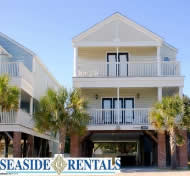 1. Wildhurst by the Sea is located at 1312B South Ocean Blvd., Surfside Beach. Book this spacious pet-friendly six bedroom home now for a March 22 or March 29 weekly stay and save 15% off the rate! If you can't arrive until April, that's not problem. Arrivals on April 5, 19 and 26 will also get 15% off a weekly stay on new full week stays. Amenities in this beautiful home include a swimming pool, high speed Internet, hot tub, 7 TVs, VCR and DVD players, and your own washer/dryer.
2. New Ebb Tide B is located at 221B N Ocean Blvd., Surfside Beach. This five bedroom, four bath duplex offers gorgeous ocean views. Book it for a March 2014 weekly arrival and save a whooping 20% off the rate on a new full week reservation! Arrive on April 19 or April 26 and, again, take advantage of 20% off your new weekly stay! You'll have easy beach access from this home along with a private swimming pool, multiple decks offering views, 6 TVS and DVDs, VCR, and washer/dryer.
3. 7th Heaven at 711-A North Ocean Blvd., Surfside Beach. This oceanfront home is as grand as the Atlantic Ocean it sits next to. Take advantage of booking any available week between right now through June 7, 2014 and you'll receive 20% off the weekly advertised rate! This special applies to new bookings only.
4. Stingray can be found at 509 South Ocean Blvd., Surfside Beach. This recently renovated five bedroom, 4 bath home sits on the oceanside of South Ocean Blvd. You'll get $400 off any weekly advertised rate when you book now for March, April or May 2014. Call quick to take advantage of this super deal!
5. Sunny Delight is at 113-A South Seaside Drive, Surfside Beach. This home can accommodate 12 people and pets are permitted, too! Book 6 nights and get the 7th night free for any available week in 2014! This great deal applies to new full week reservations only.
If we can assist you with your beach vacation reservations please give Surfside Realty a call at 1-800-833-8231. We'd be happy to talk with you and help answer any questions you may have. See you soon!